Introduction
On 14 September 2012 the third phase of the G1000 starts.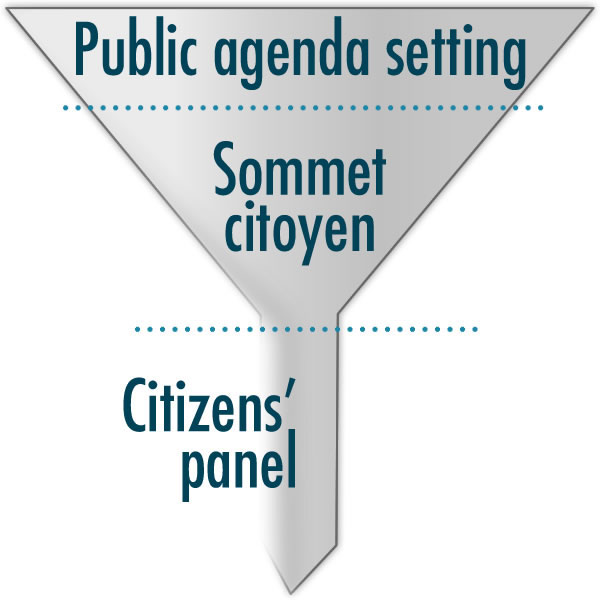 As you may know, the G1000 relies on a process that consists of 3 phases; together they function like a funnel. It started last year with a broad online survey, which served to detect relevant topics. During the second phase the G1000 citizens' summit was held; this event took place at Tour&Taxis in Brussels on 11 November 2011. To conclude the entire participative process a citizens' panel of 32 people will now be organized, which is the third phase. During the citizens' summit last year no less than 704 people discussed several key themes. From this big group 32 people were selected who will now elaborate the results over the course of three weekends of focused deliberation. The aim? Draw up a number of specific policy recommendations.
The 32 participants of this third phase of the G1000 are fully in charge of their own process; this means that they have been given the freedom to determine the topics on which they will focus during those three weekends. Over the course of the summer they were asked to chose a main theme from among the topics and subtopics discussed during the G1000 citizens' summit. They had to motivate their choice. To help them with this task, the flipcharts with all the ideas that were formulated during the citizens' summit were first analyzed. In this way these ideas could be summarized and presented to the group.
After the analysis and the summary was completed, the 32 participants selected the following main question for their discussions: how to deal with labor issues and unemployment in our society?